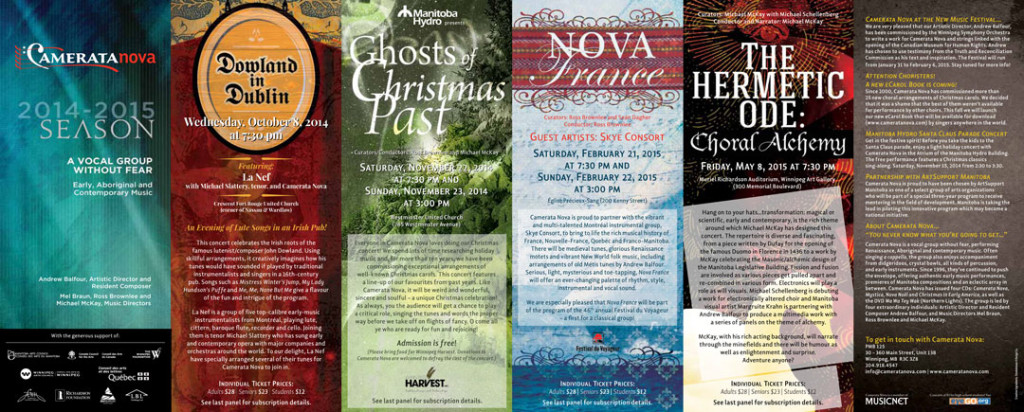 Alchemy means transformation: magical or scientific, the use of rituals, experiments, symbols and spells. Base metals can turn into gold or, more difficult, base humanity can attain the spiritual. Our last concert of the 2014-15 season, The Hermetic Ode: Choral Alchemy is focused on this topic but, when I think about it, much of what Camerata Nova is and does has an alchemical feel.

Dowland in Dublin
Wednesday, October 8 at 7:30 pm at Crescent Fort Rouge United Church (corner of Nassau and Wardlaw)
We start the year on October 8 (yes, much earlier than usual!) with an experiment. Thanks to Ross Brownlee who studied and worked in the fabulous early music scene in Montreal, we were lucky to snag a group called La Nef (The Nave) who are touring western Canada this fall with their show, Dowland in Dublin.
John Dowland was a master lute player, singer and composer from the time of Shakespeare. He is famous for his songs and madrigals – complex, clever, secular, sung in several parts, often about love, especially lost love or damn-her-she-doesn't-know-I-exist love.
Dowland in Dublin is not, however, a typical early music concert. Lutenist Sylvain Bergeron from La Nef writes:
The idea for this project was sparked when, at the end of a La Nef Christmas party, Seán Dagher charmed all who were listening when he took out his cittern and began to sing "Come Again Sweet Love" (a well-known Dowland madrigal) as a folk song.
Working closely with Michael Slattery, we began to strip some of Dowland's Ayres of their complex contrapuntal accompaniments, seeking to give them a simple Celtic flavour. The result is midway between folk songs and art songs.
La Nef's idea is Dowland as he would have sounded in an Irish Pub in the 16th century. We hope that you are as charmed as we are by this Dagher-Dowland alchemy. We're also honoured that La Nef proposed that we join them in their show, performing both unaccompanied madrigals and arrangements combining our two groups.
P.S. La Nef have a fine CD of Dowland in Dublin which will be for sale at the concert. Check out the barczablog review.

Ghosts of Christmas Past: Saturday
November 22 at 7:30 pm and Sunday, November 23 at 3:00 pm at Westminster United Church FREE!
This has always been a special concert for us. The vibe is great – we feel like you in the audience are family! This year is just plain fun. We're choosing all of our favourite carols, arrangements and motets from 18 years of doing this gig. Expect the beautiful, joyous, twisted and quirky…always with love, respect and more than a little alchemy.
Did you know that we now have more than 40 versions of Christmas carols that we have commissioned? Building on this, we've decided to launch a Camerata Nova eCarol Book on our website this fall. Conductors everywhere are always looking for fresh ways to present Christmas music and we've got some great solutions. Time to share the wealth!

Choral Night at New Music Festival
Monday evening, February 2 at Westminster United Church
The WSO has commissioned Andrew to write a work for choir and cello related to aboriginal human rights. He has chosen to use testimony from the Truth and Reconciliation Commission as the text. The title of the work is Take the Indian, from the quote by Duncan Campbell Scott, Canadian poet and Head of the Department of Indian Affairs from 1912-32. Scott's aim, which we now recognize as terribly misguided, was to "take the Indian out the child".
The WSO has also asked us to perform Partita for Eight Voices by Caroline Shaw, an amazing work made famous by the highly innovative US vocal ensemble, Roomful of Teeth. Shaw won a Pulitzer Prize in 2009 for this work and Roomful of Teeth won a Grammy for Best Small Ensemble Performance in 2014. We LOVE this piece – it's us, but it's wild! It'll take a ton of work to prepare! And we are very fortunate that Caroline Shaw will be working with us in advance of the performance!

Nova France
Saturday, February 21 at 7:30 pm and Sunday, February 22 at 3:00 pm at Église Précieux-Sang (200 Kenny)
Allons s'amuser! From its early days, Camerata Nova has had singers and board members from St. Boniface. In fact, there seems to be some kind of deep kinship (alchemy?) between Francophones and ancient music. We certainly feel a special tie to nos amis de Saint-Boniface.
Recognizing this, Nova France celebrates 1000 years of French music, from medieval to modern – de la France au Québec, l'Acadie et Manitoba. The first half will concentrate on the exceptional early music of France, including composers such as Charpentier, Lully and Le Jeune. The second half will go full-on into North American French music – folky, fun, fast and full of colour.
We are really pleased to be joined by the Skye Consort, another stellar group from Montreal. The four players: Sean Dagher (cittern, accordion), Grégoire Jeay (flute), Alex Kehler (violin) and Amanda Keesmaat (cello) move with consummate ease from stately Renaissance dances to rollicking jigs. Like Camerata Nova, they like creating their own contemporary arrangements, some of which have been written specially for this collaboration. The members of Skye Consort are steeped in Québec and Acadian music. We are looking forward to really getting into this music with them, plus sharing some of our knowledge of Métis folk tunes.
We are proud that this concert will be part of Festival de Voyageur – a first!

The Hermetic Ode: Choral Alchemy
Friday, May 8 at 7:30 pm at the Muriel Richardson Auditorium, Winnipeg Art Gallery
Hang on to your hats… composer/actor/singer/conductor/pianist and alchemist(?) Michael McKay is going to take us into his own Neverland where fission causes works to be played in fragments; fusion joins disparate works together and unusual shapes parade with coloured lights, alchemical birds and symbolic colours.
Four new short works are being written: As Above So Below and The Rosary of Seven Rays by Michael McKay, The Emerald Tablet by Michael Schellenberg and Windigo by Andrew Balfour. Old works are being linked to new. Nuper Rosarum Flores by Dufay was written for the opening of the Duomo in Venice (built on the proportions of Solomon's Temple). This work is juxtaposed with McKay's As Above So Below, based on the Masonic/alchemic design of the Manitoba Legislative Building (also built on the proportions of Solomon's Temple…).
Electronics will play a role. Schellenberg's The Emerald Tablet features live interaction between the singers and computer with sound-surround speakers. His vision is to create a work that uses alchemical principles and musical experience to promote inward growth and spiritual development. Balfour will also be experimenting with electronic media, using digital and nature sounds combined with choir to create a tone poem about entering a forest (real or in the mind) to meet the Windigo.
This concert will also have visual elements. Crumb's shapes will appear on a rear screen, excerpts from Alexander Nemtin's Preparation for the Final Mystery call for coloured light and Michael Maier's Atalanta Fugiens comes with alchemical artwork. Excitingly, Andrew Balfour and Michael Schellenberg are partnering with Manitoba artist Margruite Krahn who is creating four large panels, each a tone-on-tone exploration of an alchemical colour (black, white, yellow, red) and bird (raven, phoenix, swan, pelican).
Michael McKay will be our narrator, guiding us with humour and insight from the peace of plainchant, past the shoals of Stockhausen and the trancy mists of minimalism.
Don't miss this edgy, imaginative tour de force!
http://cameratanova.com/16/wp-content/uploads/2019/09/camerata-logo-use-1.png
0
0
Karine Beaudette
http://cameratanova.com/16/wp-content/uploads/2019/09/camerata-logo-use-1.png
Karine Beaudette
2014-09-14 00:51:44
2016-10-20 12:53:11
Choral Alchemy: A look at our 2014-15 Season