___________________________________________________________
This year, the Camerata Nova Christmas concert is EuroNova and will be held at Crescent Fort Rouge United Church on November 26 and 27. Our 2016 holiday performance features lovely and unusual twentieth-century European Christmas carols, as well as a merging of old and new sounds from special guests, The Uncalled Four. I asked conductor Vic Pankratz and local composers Kenley Kristofferson and Michael Schellenberg to walk me through some of the soundscapes the audience will encounter at EuroNova.
While the program includes music from Sweden, France, and England, Vic Pankratz will highlight in particular five carols by early twentieth-century German composer Hugo Distler. I asked what he admires about Distler's work.
"I find his music remarkable, his way of writing truly innovative. The choir will be singing five of his Christmas motets, the most well-known probably Maria Durch ein Dornwald Ging ("Maria went through a spiny forest"). His music is quirky yet beautiful, tonal yet chromatic."
Distler was a church musician during the Nazi regime, trying to devote himself to sacred choral music. But he eventually felt unable to find a way to serve God in the difficult war years in Germany, and took his own life in 1942. Vic continues: "My own introduction to Hugo Distler was singing his setting of Lobe Den Herr'n ("Praise the Lord") when I was in college. I loved the way the melody danced around in the different parts, and also the rhythmic complexity. His music is very popular amongst church musicians in Germany, and I'm so pleased to present some of his Christmas music to our
At EuroNova we will hear work by accomplished composers who are surprisingly young. Latvian Ēriks Ešenvalds (born 1977) is the writer of the ethereal Stars, during which the choir will play crystal glasses. Slovenian Gašper Jereb (born 1985) provides the hauntingly beautiful Magnum Mysterium, a Christmas cantata, which will also feature harpist Samantha Ballard.
Camerata singer Michael Schellenberg (born 1987) is the arranger of the brand new Presence of Christmas Mourning, a stirring amalgam of no less than nine European carols. The work was inspired by the complexity of emotions faced by those who experience grief and loss during the Christmas season. Michael says, "My arrangement is meant to lift people's spirits through its progression and rich harmonies, not to dwell on the pain of loss."
Another young composer is Kenley Kristofferson (born 1983), who teaches music at Lord Selkirk Regional Comprehensive Secondary School. Born in Gimli, and proud of his Icelandic heritage, Kenley has written a new version of Jólakötturinn for EuroNova. Icelanders will know this story of a gigantic and scary Yule Cat, but the folk tale will be new to others. It is a weird but welcome addition to the usual stock of Christmas tales.
Although the Jólakötturinn on the Icelandic Yule stamp pictured here looks benign, the Yule Cat is formidable. One verse of the poem by Icelandic author Jóhannes úr Kötlum describes the cat this way:
He walked about, hungry and mean
in hurtfully cold Christmas snow
and kindled hearts with fear
in every town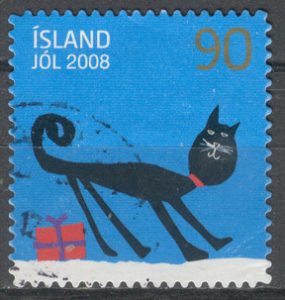 Asked what drew him to the story of Jólakötturinn, Kenley says, "The cat is the pet of Grýla, the Icelandic Christmas witch, and lurks to find children who haven't received any new Christmas clothes. I know the tune is kind of eerie, but there's a message here about making sure that those around you have enough.  If you have a sweater, make sure to give it away as a gift so the Jólakötturinn doesn't claim another victim!"
The choir has many languages to master for the concert, and will rise to the considerable challenge of the Icelandic words (consulting, perhaps, a version of the piece by Icelandic pop star Bjork). Kenley says we should notice the "dynamic level of the piece, which nicely exemplifies the coming of the Jólakötturinn, first in shadows, and then drawing nearer and nearer." He continues: "This music took almost every tool I had in my compositional toolbox."
Camerata Nova is thrilled to have The Uncalled Four as guests for Euronova. The Uncalled Four are an electro-acoustic music ensemble exploring the fusion of live vocal expression in the choral tradition, with computer-generated atmospheric sound and light. The Four are electronic sound producer Jakob Weirathmueller and vocalists Claire Fast, James Magnus-Johnston, and Al Schroeder. Claire and Al are both singing in this concert with Camerata, while James has been a member in the past.
The Uncalled Four will be opening the second half of the concert and Camerata Nova will join on two songs. A unique twist to this set is that the Four are going to record the audience singing a well-known Christmas Carol earlier in the evening and then incorporate this into their set of music. "I am very excited about all the different elements of this collaboration," says Vic Pankratz.
Months of preparation go into a holiday concert this original, with so many new arrangements and special combinations of instruments and voices. As curator of this concert, Vic is full of eager anticipation, and especially happy to bring local compositional talent to the fore. "I know," says Vic, "that the audience will love what they hear."
– Sue Sorensen
---
http://cameratanova.com/16/wp-content/uploads/2019/09/camerata-logo-use-1.png
0
0
Chris Simonite
http://cameratanova.com/16/wp-content/uploads/2019/09/camerata-logo-use-1.png
Chris Simonite
2016-11-16 20:23:40
2017-02-12 22:32:01
A Euro Nova Christmas