---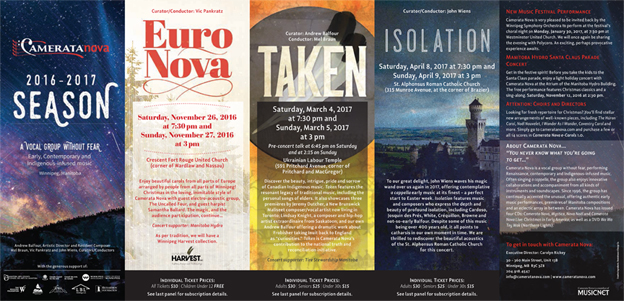 Still glowing from its 20th anniversary, Camerata Nova starts a new decade with a season that goes out of bounds and delves into the deep heritage of choral music while taking daring strides with new material. As usual, Andrew Balfour and the Camerata Nova team colour vibrantly outside the lines. Highlights include three very different and exciting concerts:
Euro Nova (November 26 and 27, 2016 at Crescent Fort Rouge United Church): This concert runs the gamut: interesting, beautiful 20th-century European Christmas music (including works with harp and glass choir), arrangements of well-known European carols by five different Manitoba composers and European electro-acoustic carols featuring Camerata Nova with the local Winnipeg group The Uncalled Four, led by James Magnus Johnson with synthesizer whiz Jakob Weirathmueller. Not exactly the Christmas we know, but a Christmas that stirs the imagination, evokes the familiar and renews our spirit. Note: While we simply cannot afford to make this a free concert, we wish to continue the tradition of making our holiday concerts highly accessible. The compromise is a nominal charge of $10 per person; children under 12 free.
Taken (March 4 and 5, 2017 at the Ukrainian Labour Temple): Meet Jeremy Dutcher, a Maliseet originally from New Brunswick, one of 500 people left who speak his language. Dutcher is a composer and performance artist who has a Masters in Voice (Lieder) and Piano from Dalhousie University. Camerata Nova has commissioned Jeremy and other Indigenous artists to compose works on the theme of "taken." For Jeremy, the subject is his language while for Lindsay Knight (performance name Eekwol), the theme evolved to the other ways we can be taken, by addiction and suicide. Lindsay is a passionate, brilliant hip-hop artist from Saskatoon. Conductor Mel Braun is writing a beat-box choir part for us – hang on to your seats! Last but not least, our own Andrew Balfour is writing a fascinating work on the explorer Frobisher taking Inuit back to England as "curiosities." The fabulous Madeleine Allakariallak from Iqaluit will perform the part of a shaman while Jeremy Dutcher sings the role of a young kidnapped Inuk. Not to be missed!
Isolation (April 8 and 9, 2017 at St. Alphonsus Catholic Church): John Wiens has selected an exceptional array of a cappella early music on this theme – the Portuguese composer Manuel Cardoso isolated by writing music 50 years behind his times; Robert Carver, a Scotsman geographically isolated from his Renaissance colleagues, or Stabat Mater Dolorosa by John Browne whose music expresses deep feelings of isolation. A beautiful, contemplative start to Easter week.
Other gigs
We will be performing our usual free Christmas concert in the atrium of Manitoba Hydro Place (360 Portage Avenue) ahead of the Santa Claus Parade. Get in the festive spirit with this light holiday concert that features Christmas classics and a sing-along, on Saturday, November 12, 2016 at 2:30 pm.
Also, thanks to the Winnipeg Symphony Orchestra (WSO), we will be returning to the New Music Festival on Choral Night on January 30, 2017, at 7:30 pm, at Westminster United Church (745 Westminster Avenue). This time, Camerata Nova conductor Mel Braun has collaborated with Polycoro director John Wiens and the WSO curators to guarantee spice, surprise and serious fun in true New Music Festival fashion!
Year Two of our Northern Manitoba Outreach Program
Following last year's success of the Four Directions pilot project, Camerata Nova is delighted to continue its partnership with Frontier School Division – Canada's largest – and offer musical outreach to northern Manitoba communities for the 2016-17 school year. Camerata Nova music specialist team, Andrew Balfour and Michael Thompson, will once again work with K-12 students using voice, didgeridoos, percussion and other innovative techniques to encourage the children to express themselves through soundscapes that culminate in end-of-day group performances.
http://cameratanova.com/16/wp-content/uploads/2019/09/camerata-logo-use-1.png
0
0
Karine Beaudette
http://cameratanova.com/16/wp-content/uploads/2019/09/camerata-logo-use-1.png
Karine Beaudette
2016-10-20 16:29:40
2016-11-03 22:35:14
Out of Bounds: Camerata Nova's 2016-2017 Season