___________________________________________________________
This concert is a landmark in the history of Camerata Nova. First, it is our formal contribution to Canada's process of truth and reconciliation. Second, it is truly national in scope: we have commissioned three Indigenous artist/composers from across the country to write new works for us and, in addition to our March 4/5 performances in Winnipeg, we have also been invited to perform this concert as part of the National Arts Council's Canada Scene festival in June in Ottawa – a real honour!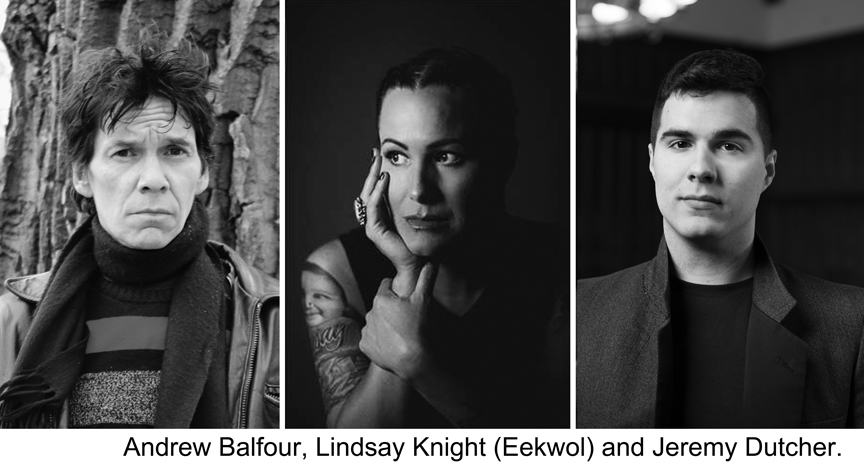 Andrew Balfour proposed the theme and purpose of Taken, arising out of his performance piece commissioned by the Winnipeg Symphony Orchestra called Take the Indian. He did the research to find and invite Jeremy Dutcher and Lindsay Knight to be his co-conspirators. Mel Braun has also played a major role in curating this show, creating the singers' live beat under Lindsay's hip-hop text and pulling together the very diverse elements of people, music and performance in the last week before the show.
Honour Song
This was originally sung in Mi'kmaq by George Paul. He gifted it to the Wabanaki people and it was subsequently translated into the Maliseet language, Wolastoqey, by Maggie Paul. It is a call for unity and solidarity among all Indigenous peoples and an anthem to the land. "This song has become one of the most recognizable piece of Indigenous music on the east coast and is sung when our nations gather," explains Jeremy Dutcher.
A bit more about Jeremy… Several years ago, Jeremy was at the National Archives in Ottawa researching the history of his people. He came across a wax roll recording from the early 1900s of his people singing traditional Maliseet songs. From this very special material, Jeremy is working on his debut album Wolastoqiyik Lintuwakonawa (Our Maliseet Songs) slated for release in fall 2017. "I believe song is a critical method of language and value learning and, by extension, a specifically Wolastoqiyik worldview. Traditional Wolastoq songs are no longer sung here and it is my greatest desire to change that."
Masceptasu (It is taken away)
"We have to keep our language. It tells us who we are and without it we are just 'Ikolisomonok.'" – Iris Nicholas
Jeremy Dutcher writes: "The main theme of this work is the tension between loss and reclamation. When we think about what has been taken, we cannot separate the culture from the land. The culture is the land. The language is the land. We are the land.
Our Wolastoqey language is at a critical point today; there are currently less than 500 speakers left and unless the young people take linguistic reclamation seriously, we may lose it completely. This piece explores what has been lost by detailing a sound journey from my home community of Tobique First Nation to Shubenacadie Indian Residential School. This piece is dedicated to three people from my community who made that journey as young people in the 1950s and have since shared their stories: Vaughan Nicholas Jr, Iris Nicholas and Wendall Perley.
Each member of the choir is imagined as being on the journey from home to school – safety to unfamiliarity. For that reason, much of the choral parts are not actually dictated and it is up to each individual singer to carve their path forward. In the beginning, it is this improvisatory spirit that I want to guide the piece. This all comes to an end once we arrive at the school. Lines are strict and enforced and texts are religious in nature. Sound textures become dense. As themes from 'home' return, we find that they are discordant with where the singers find themselves. How will they find their way back? The cello represents the rootedness of community and introduces many important themes throughout the piece.
For me, the research for this piece was quite difficult. To listen to survivors recount how they were taken away from their homes and the subsequent confusion that that caused – how they were isolated from siblings once at school and told that everything they had known in life until that point was no good and of the devil. Hearing how this trauma has impacted the next generation places many of our issues as a community into a context of dispossession and colonial violence. Hearing their stories was a sobering reminder of the truths that some of our people carry with them.
In the end, Maceptasu begs the question what our path forward is. I reject that our languages are 'dying' as some have asserted. It is my belief they have been put to sleep for their own safety – it is our job to determine how we wake them up."
Ghosts
Saskatchewan Indigenous hip-hop artist Lindsay Knight, a.k.a. Eekwol, wrote this song in 2015. It is featured on her new album called Good Kill, which is available for sale today. Lindsay grew up with little awareness of residential schools. Her father had gone to a day school and she had no idea that her father's grandparents had both attended residential institutions – it was just never talked about. As a parent with a young family, Lindsay began to imagine what it would be like to have some strange white person of authority come and take her own children. She would suffer huge grief from separation. She would worry, not knowing how they were doing. Months later, when they returned for summer holidays, she would find out that this faraway place was cold, that her children were malnourished and, yet, they had to go back.
Ghosts was hard to imagine, hard to write, yet it ends on a hopeful note – Eekwol and her people are alive, Canadian Indigenous people have a future. It is possible to be strong and to climb out of the darkness.
Taken
Andrew first met Lindsay Knight through the National Arts Centre's Music Alive program where both are educators in music outreach activities for the northern Prairies. He was impressed with her artistry and her passion and commitment to the social issues of her people. He told her about Camerata Nova, the Taken concert idea and his idea of writing about Martin Frobisher taking Inuit back to England.
"This song felt natural for me to write," said Lindsay about her own interpretation of the theme. "The theme is one close to my heart. It was not fun, but it felt strong and productive to do. It's also an adventure. I've never performed with a choir providing the live beat. I can't wait to hear what Mel has done. I just told him that it had to work at 80-90 BPM (beats per minute) – I know I can perform it at that speed." Mel Braun replies: "Lindsay, we can assure you that this is an adventure for Camerata Nova, too! I wove the drum songs you sent me into the texture, along with 13 Canadian pop music quotes, one for each region of Canada, that connect with your text."
To be "taken" means to be removed far away, without permission. The corollary is how does one come back? In composing this hip-hop text, Lindsay started to think about Indigenous people across the country. Taken applies to many histories, to people, culture, language, songs. Today, it applies to incarceration – the many Indigenous people in our jails are not in their homeland, even if their prison is on treaty land. Her lyrics ring true to the dilemma Indigenous people are facing and the issues/feelings non-Indigenous Canadians must understand and respond to in order to achieve reconciliation: "Giving back what was taken when it's no longer there, Taking back what was given when it's all that is there."
Quamaniq (Bright Aura)
In the summer of 2009, Andrew had the chance to go to Iqaluit and spend some time with Madeleine Allakariallak, experiencing the North to prepare to write his work, Medieval Inuit. "I remember looking out over Frobisher Bay as Madeleine told me about explorer Martin Frobisher and how he took Inuit back to England to show as 'curiosities,'" says Andrew. "None ever came back, of course – white man's diseases killed them within months. I was very touched. At the time, I decided that, someday, I would write a work about this story. Seven years later, I am realizing that dream. It's magic to come under the spell of Madeleine and the Arctic once again."
Quamaniq is centred on a story created by Andrew, but derived from the historical facts about Frobisher and the Baffin Island Inuit. It is an abstract work, shifting almost antiphonally between the life and perspective of the Inuit and that of Frobisher and his sailors. "I have a lot of passion for this piece," writes Andrew, "but it has also been a struggle. I wanted to create a music with contemporary power, sorrow and mystery, but I also wanted it to be grounded in the sound of true Inuit tradition. This is the third time that I have collaborated with Madeleine. Her personal aura, love of her land/people and commitment to the traditional Inuit voice have been a great gift to me."
Quamaniq starts by taking us into the mysterious feel of the North and the land – it is bright, cold, endless and otherworldly – a Shaman protects it. The scene and mood then shift to England: Frobisher and his sailors are setting out on their first voyage in 1576, leaving England full of patriotism and hope that they will find the Northwest Passage to the Orient. In contrast, we return to Baffin Island and are introduced to Ana, a special Inuit woman, surrounded by a "bright aura." Suddenly, Frobisher's ship can be seen in the distance – "Oona Soona? (What is it?)" sing the Inuit.
Entering the large bay, Frobisher dreams that he has found the famed passage to the east. He and his sailors are caught up in a frenzy of excitement and greed. They arrive at Baffin Island and Frobisher sings an aria: "Bring me my compass. Is this the Orient? We've found it!" In the background, sirens and the Shaman sing. This changes into a shamanic trance at the height of which Ana is captured and taken aboard ship. The trance is broken by the sailors' Latin chorus of Convert Ye Back to God. The cello then plays a plaintive melody as the Inuit community watches the ship sail away. To keep her spirits up, Ana sings a personal song: The sun is about to shine (Madeleine's mother and grandmother used to sing this when they lived in Resolute where the sun went down for four months of the year). Ana then sings about her struggle to survive. The work ends with the Shaman chant Quamaniq – Bright Aura – in honour of the lost Ana.
This concert has been a labour of sad recollections but also great caring and creativity.  Camerata Nova wishes to thank our amazing Indigenous composer/performers – Jeremy and Lindsay. This has been a fascinating and important journey. We were also honoured to have Madeleine, Jason, Leanne and Fred who have added so much to our goal of telling these Indigenous stories. Finally, we wish to thank Carolyn Rickey, our Executive Director, and all the production, marketing, development and front-of-house people, many of whom have donated long hours, to bringing this to fruition. Together, we can imagine a new quamaniq – bright aura – for this country.
http://cameratanova.com/16/wp-content/uploads/2019/09/camerata-logo-use-1.png
0
0
Chris Simonite
http://cameratanova.com/16/wp-content/uploads/2019/09/camerata-logo-use-1.png
Chris Simonite
2017-02-25 17:41:16
2017-02-25 17:43:11
Program Notes for Taken