Captive concert postponed until further notice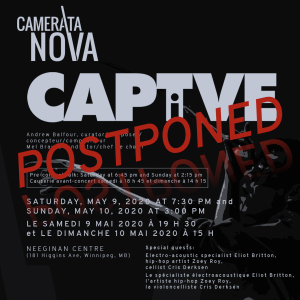 In early April, we let you, our subscribers and ticket buyers, know that our May 2020 performance of Captive had been rescheduled to September 2020. This decision was made in accordance with the provincial public health guidelines for COVID-19 to ensure the health and safety of both audience members and singers.
We have watched carefully as the provincial guidelines and overall situation have evolved and come to the recognition that the likelihood of a September concert is limited. Accordingly, we have decided to postpone our Captive concert.
If you have already purchased ticket(s) to this concert, we would like to offer you a refund on your ticket(s).  If you would consider donating your ticket(s) back to us,  we would be happy to provide a charitable receipt.
Thank you for your support and understanding. Stay safe, and we look forward to presenting this special concert for you some time in the future.
Please feel free to contact us at info@cameratanova.com
An update on our 2020-2021 Season
Alongside the postponement of Captive, we have also made the difficult decision to delay the start of our 2020-2021 season until January 2021.
Stay tuned, however, as we explore new, creative means of delivering a quality musical experience. Follow us on our socials and keep an eye on email updates as well as our website for some exciting new content.
Our planned concert for this fall – which was to be a celebration of baroque music – promises to become even bigger and better with some collaborative plans for the 2021 – 2022 season!
Video footage from our Fallen (Notinikew) concert
Poni pimacisiwin (the end of living) was written by Andrew Balfour for our Fallen concert. Notinikew featured Andrew, Cris Derksen, Cory Campbell, and the Winnipeg Boys Choir, and was the second in our Reconciliation concert series. Read more about Andrew Balfour and see all videos from the concert HERE
Trip to Churchill raffle update
For those who purchased raffle tickets for the opportunity to win a trip to Churchill, sponsored by Calm Air,  or an Inuit carving, the draw will be made at Camerata Nova's Saturday, June 27, 2020 Board meeting and the results will be posted on social media immediately after. Please note that Calm Air has generously extended the travel timeline until November 2021 to accommodate the winner, given the current travel restrictions due to COVID-19.
9 Questions
Self-isolation has given us all a chance to do a little reading, watch some TV, home clean-up, and perhaps take on a new or existing hobby. The answers to these nine questions will give you an idea of how some of the folks in Camerata Nova have spent this time. Enjoy! Take me to 9 Questions
CanadaHelps


What have you missed most by being shut down these last few months? A hug from a child? Laughter over a meal with friends? Perhaps it was the joy of listening to live music from Camerata Nova?
We miss our audiences. With current programming cancellations, our revenues are also suffering. If you are at all able to, please consider making a donation to support us through these extraordinary times via CanadaHelps. Each donated dollar during the month of June goes towards an opportunity for Camerata Nova to win $20,000 through the Great Canadian Giving Challenge. Thank you and looking forward to seeing you at the next concert!
One quick question
By purchasing a ticket to a concert or donating to our organization, you've supported the immense work it takes to put on such collaborative, fearless productions. Thank you for being a part of our community of arts lovers. Your interest is keeping Winnipeg's choral music community vibrant and adventurous, even during these challenging times.
Please take a moment to complete the short survey below. We'd love to get a better sense on how we can serve you better. Thank you from the bottom of our hearts!
LE CONCERT « CAPTIVE » REPORTÉ JUSQU'À NOUVEL ORDRE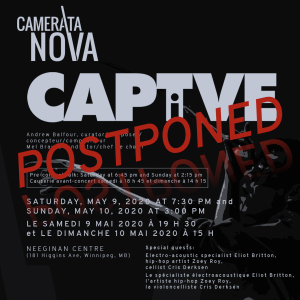 Au début avril, nous vous avons fait savoir, à vous nos abonnés et acheteurs de billets, que notre représentation de Captive de mai 2020 allait être reportée à septembre 2020. Cette décision avait été prise conformément aux directives provinciales de santé publique pour la COVID-19 afin de garantir la santé et la sécurité des spectateurs et des chanteurs.
Nous avons observé attentivement l'évolution des directives provinciales et de la situation générale et avons constaté que la probabilité d'un concert en septembre est limitée. En conséquence, nous avons décidé de reporter à nouveau notre concert Captive.
Si vous avez déjà acheté un ou plusieurs billets pour ce concert, nous vous offrons un remboursement sur votre ou vos billets. Si vous envisagez de nous faire don de votre (vos) billet(s), nous serions heureux de vous fournir un reçu pour don de bienfaisance.
Nous vous remercions de votre soutien et de votre compréhension. Portez-vous bien et nous espérons vous présenter ce concert spécial dans le futur.
N'hésitez pas à nous contacter à l'adresse suivante : info@cameratanova.com.
LE POINT SUR NOTRE SAISON 2020-2021
En parallèle au report de Captive, nous avons également pris la difficile décision de reporter le début de notre saison 2020-2021 à janvier 2021.
Restez cependant à l'écoute, car nous explorons de nouveaux moyens créatifs pour offrir une expérience musicale de qualité. Suivez-nous sur nos réseaux sociaux et gardez un œil sur les mises à jour par courriel ainsi que sur notre site Web pour découvrir de nouveaux contenus passionnants.
Notre concert prévu pour cet automne – qui devait être une célébration de la musique baroque – promet de prendre de l'ampleur et de devenir encore meilleur avec quelques projets de collaboration pour la saison 2021-2022!
IMAGES VIDÉO DE NOTRE CONCERT FALLEN (NOTINIKEW)
La pièce Poni pimacisiwin (la fin de la vie) a été écrite par Andrew Balfour pour notre concert Fallen. Notinikew, avec Andrew, Cris Derksen, Cory Campbell et le Winnipeg Boys' Choir, était le deuxième concert de notre série sur la réconciliation. Pour en savoir plus sur Andrew Balfour et voir toutes les vidéos du concert, cliquez ICI.
LE POINT SUR LE TIRAGE DU VOYAGE À CHURCHILL
Pour ceux et celles qui ont acheté des billets pour avoir la possibilité de gagner un voyage à Churchill, commandité par Calm Air, ou une sculpture inuite, le tirage au sort sera effectué lors de la réunion du conseil d'administration de Camerata Nova du samedi 27 juin 2020 et les résultats seront publiés sur les médias sociaux immédiatement après. Veuillez noter que Calm Air a généreusement prolongé le délai de voyage jusqu'en novembre 2021 pour accommoder le gagnant ou la gagnante, étant donné les restrictions actuelles de voyage dues à la COVID-19.
9 QUESTIONS
L'auto-isolement nous a donné à tous et à toutes la possibilité de faire un peu de lecture, de regarder la télévision, de faire le ménage et peut-être d'adopter un nouveau passe-temps ou d'en retrouver un. Les réponses à ces neuf questions vous donneront une idée de la façon dont certains membres de Camerata Nova ont passé ce temps. Amusez-vous! Allez aux 9 questions
CANADAHELPS

Qu'est-ce qui vous a le plus manqué pendant l'isolement des derniers mois? Le câlin d'un enfant? Les rires autour d'un repas entre amis? Peut-être la joie d'écouter de la musique en direct de Camerata Nova?
Notre public nous manque. Avec les annulations de la programmation actuelle, nos revenus en souffrent également. Si vous en êtes capable, veuillez envisager de faire un don pour nous aider à traverser cette période extraordinaire via CanaDon. Chaque dollar donné au cours du mois de juin donne la possibilité à Camerata Nova la chance de gagner 20 000 $ dans le cadre du Grand défi caritatif canadien. Merci et au plaisir de vous voir au prochain concert!
UNE PETITE QUESTION
En achetant un billet pour un concert ou en faisant un don à notre organisation, vous soutenez l'immense travail qu'exige la réalisation de nos productions collaboratives et audacieuses. Merci de faire partie de notre communauté d'amateurs et d'amatrices d'art. Votre intérêt fait en sorte que la communauté de la musique chorale de Winnipeg peut rester dynamique et aventureuse, même en ces temps difficiles.
Veuillez prendre un moment pour remplir le court sondage ci-dessous. Nous aimerions avoir une meilleure idée de la façon dont nous pouvons mieux vous servir. Merci du fond du cœur!
http://cameratanova.com/16/wp-content/uploads/2020/06/Captive-postponed.png
2184
2184
Roland Descambault
http://cameratanova.com/16/wp-content/uploads/2019/09/camerata-logo-use-1.png
Roland Descambault
2020-06-10 12:05:35
2020-06-18 13:03:54
An update from Camerata Nova / des nouvelles de Camerata Nova