Being involved in historical music, as I often am, requires no small amount of sleuthing. In the time that I find to read historical documents, the reports of others who have read them, and the problems that arise from the misinterpretation of those documents by sincere and well-meaning scholars (including myself), has led to confusion over the years. And so, when one finds a clue, one must be quick to doubt – to fact check – and to look further to find reviews by other renowned scholars which lend either weight to, or contest, a written argument. These reviews are most often found in journals and magazines and are a critical part of any historical musicians' life – just as important as the reports themselves. For it is in these reports – and the expertise of those who write them, that we must invariably either put our trust or discount.
How does one do that? How does one choose who to read and who to ignore? How does one decide if a well-known conductor is fictionalizing to sell a few extra books or recordings? Well, luckily, there are many experts world-wide who one can turn to in a moment such as this. Often, they are editors of a collection of essays on a particular topic, and they are usually happy to set the record straight in the service of fine music. This summer in Ghent I was set straight a number of times on elements that I myself had been incorrect about, and I'm grateful for that.
Reading historical documents is not for the faint of heart. One must have a great passion for the music that cannot be satisfied by simply knowing the scores or listening to a recording and intuiting. For, it is a combination of the document, and the score, and the scenario surrounding the score and its composer that gives the clearest picture.
This preface from "Henry Purcell and the Restoration Theatre" by Robert Etheridge Moore sums up the hardest part of this task: "Specialists will inevitably find a great deal here that they already know, indeed whole pages that they will doubtless want to skim, but from the reports of colleagues in departments of music as well as from my own experience with even the most advanced students of English literature, it is quite clear that literary and musical studies seldom meet. A student of literature and a student of music are virtually never combined in the same individual. Outside their own field of study their ignorance can be described only as sizeable. (Unhappily this generalization, not lightly made, applies frequently to the podium no less than to the arena."
So, as we turn to the music of Henry Purcell, with all this in mind, we are faced with some surprising situations – not the least of which is the wonderful fictions of his life – the fantastical stories that were generated either during his life or by those who were destined to write about it – for uncertain reasons. For instance, should we dare to turn to the internet in search of clues about the life and times of dear Henry, we find some wonderful fictions which we may or may not be able to substantiate. We chose the title for the concert – Death by Chocolate – from one of the rumors that is hardest to believe but makes for a snappy title. There were chocolate houses in London at that time and the thesis is that Purcell lost his life as a result of drinking some impure liquid chocolate. Rumors are tough to substantiate, especially rumors that are hundreds of years old, but if it is true, that's a scrummy way to go.
The most common rumor of the time was that Purcell died because his wife locked him out in the cold because he returned home "heated with wine." This rumor we can find an origin to – it was started by the family of the celebrated Bass John Gostling. John Gostling, as many of you may know, was the Anglican cleric whose Basso Profundo gained incredible notoriety thanks to the music of Henry Purcell. He was a bass with an extraordinary range of two and a half octaves. It is surmised that the Gostling's began this rumor because they didn't like Purcell's wife, and blamed her for Purcell's death. She likely didn't deserve that blame, but the Gostlings were to lose standing at court after the death of Henry and needed to rationalize that somehow – despite the fact that the Purcell family lost so much more.
And just to try and put a little context around all of this, rumors at that time were part of the fun (and often the meanness) of life, depending on the rumor. The rumor often portrayed a general attitude of the public towards important figures of the day. For instance, Mary of Modena (the wife of King James II) was a firmly unpopular figure amongst the British. She gave birth to a son, and it was widely rumoured that he was a "changeling", brought into the birth chamber in a warming pan, in order to perpetuate her husband's Catholic Stuart dynasty. That's a pretty mean thing to say and shows what lengths the powerful and the poor alike would go to if they wanted someone to become unpopular in the minds of the hoi polloi. 
There is more, much more, that we can say about the life of Henry Purcell. If you join us at the concert there are still a few thoughts that haven't been shared in this blog – thoughts that will both deepen some mysteries about his life, and perhaps bring a fitting conclusion to the rumors about his life. – John Wiens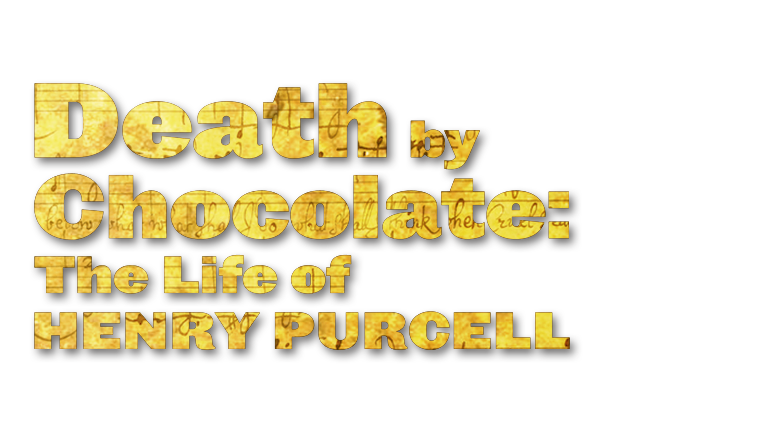 May 4, 2019 at 7:30 pm and May 5, 2019 at 3:00 pm at Crescent Fort Rouge United Church (Pre-concert talks at 6:45 pm on Saturday and 2:15 pm on Sunday)
In this concert curated and conducted by John Wiens, Camerata Nova seeks to showcase choral works by Henry Purcell (1659-1695) and to explore the life of this composer, arguably the greatest of the English Baroque period. Join us to find out how cocoa can kill…
Death by Chocolate offers top quality performers and powerful repertoire – a rare musical treat. Four Winnipeg vocal soloists: Dayna Lamothe, soprano; Jane Fingler, soprano; James Magnus-Johnson, tenor; and Jereme Wall, bass will be joined by early music instrumentalists Claudine St-Arnauld, violin; Jeremy Buzasch, violin; Greg Hay, viola; Yuri Hooker, cello; Andrew Goodlett, bass; and Michael McKay, organ continuo.
Adding some flair, we will also be joined by exciting young Canadian countertenor, Daniel Cabena, who specializes in early and contemporary performance.  The countertenor voice has a caché and curiosity that is sure to send many a heart afflutter.  Repertoire will include: Rondeau from Abdelazar; O Sing unto the Lord; My Heart Is Inditing; Hear My Prayer, O Lord; Te Deum and Jubilate in D; plus Three Funeral Sentences.
TICKETS
Tickets are available online at cameratanova.com, at McNally Robinson Booksellers, by phone
(204.918.4547), or at the door.
ABOUT JOHN WIENS
A dynamic conductor hailed for "awe-inspiring" (Winnipeg Free Press) performances, John Wiens has cemented his reputation as one of Canada's finest chamber choir conductors.
John has appeared on stages across the world, pursuing an innovative path as a programmer known for an uncommonly wide repertoire. John's inquisitiveness and love of investigation often results in the performance of new music, and music from before 1700. His conducting career has ranged from Belgium (University Chorus for L'Université Catholique de Louvain) to Morocco (Ensemble Voca Me) to Montreal (St. Matthias Anglican Church, Westmount) and Winnipeg (Polycoro, Camerata Nova).
Born into a musical family in small – town Manitoba, John aspired to be a musician from an early age.  He studied violin at the age of four, and sang in choirs throughout his childhood. He holds degrees in Violin, Voice, and Conducting, from CMU, McGill, and the University of Sherbrooke respectively. He has studied privately  with Paul van Nevel, (director of the Huelgas Ensemble), Christopher Jackson (SMAM), Andrew Megill (University of Illinois), Konstantin Krechler, and Donna Grescoe.
John is constantly expanding his knowledge of music ancient and modern. He has conducted the premiers of works by Andrew Balfour, Norbert Palej, T. Pat Carrabré, Neil Weisenthel, and Isaiah Ceccarelli, and regularly programs repertoire by many of Canada's leading composers including Anna Sokolovic, Mychael Danna, Vivian Fung, Nicolas Gilbert, and Oleksa Lozowchuk.
When not performing, John is in more and more demand as a clinician, adjudicator, and juror, participating in these activities as often as his busy schedule will allow. He is honored to work with and support new talent. He loves spending his spare time with his wife and sons in the kitchen or outdoors, and he is an avid fencer.
DONATE
Camerata Nova is a registered not-for-profit charitable organization. Exploring, taking risks, and developing exciting new programming, takes time, energy, and money.
Click here to find out more about donating.
http://cameratanova.com/16/wp-content/uploads/2019/03/John-Wiens-headshot.png
1442
1968
Roland Descambault
http://cameratanova.com/16/wp-content/uploads/2019/09/camerata-logo-use-1.png
Roland Descambault
2019-04-05 10:34:05
2019-05-04 19:11:14
Historical Music and Sleuthing by John Wiens