Give the joy of music this giving season…


Tuesday, November 27, 2018, is Giving Tuesday, the international philanthropic movement that unites communities to bring about real change by encouraging people and charities to work together.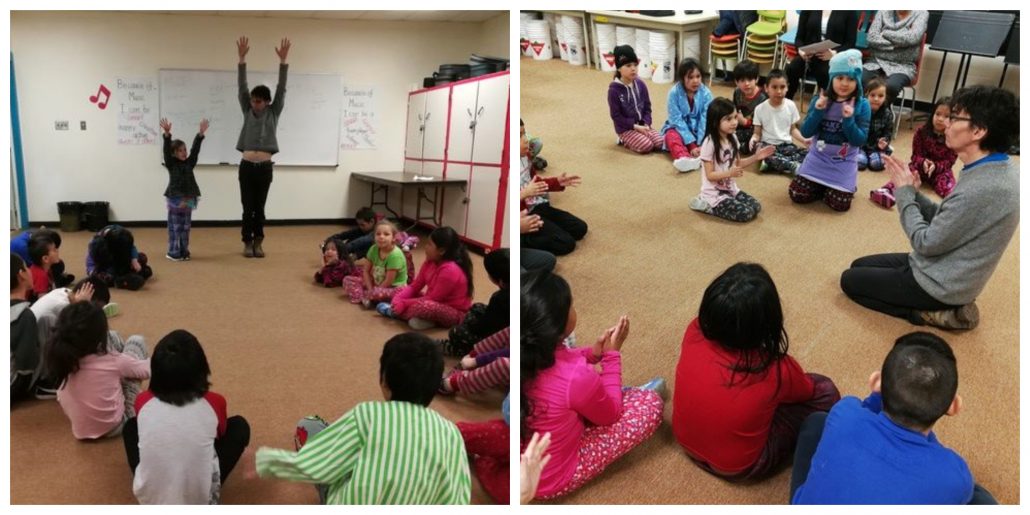 We are proud to count you among our valued partners. Music lovers from all over recognize Camerata Nova, vocal group without fear, as one of our community's most prized musical institutions. Since 1996, we've continued to push the envelope, offering early music performances, premiers of Manitoba compositions, and an eclectic array in between.
The impact of your support is truly extraordinary. With your help, for the past three years, Camerata Nova's artistic director, Andrew Balfour, who is of Cree descent, has been able to bring the gift of music north to the smaller, more remote schools that do not have formal music education programs, and teach students there how to create and perform their own soundscapes to describe their community, their family or the land around them.
And thanks to you, Camerata Nova is presenting outstanding performances season after season, including a multi-year series of truly impactful truth and reconciliation concerts. Whether supporting our outreach efforts, programming or operations, you make it all happen! Your tax-deductible donation to Camerata Nova brings about real and lasting change.
What difference are YOU making this giving season? Please consider Camerata Nova for a donation today. Your end-of-year support will help empower hundreds of students this school year, enabling these children to express themselves through the joy of music.
Offrez la joie de la musique en cette saison de générosité….
Le mardi 27 novembre 2018, c'est « Mardi, je donne », le mouvement philanthropique international qui unit les communautés dans le but d'apporter de réels changements en encourageant les gens et les organismes de bienfaisance à travailler ensemble.
Nous sommes fiers de vous compter parmi nos précieux partenaires. Les mélomanes de partout reconnaissent Camerata Nova, groupe vocal intrépide, comme l'une des institutions musicales les plus prisées de notre communauté. Depuis 1996, nous n'avons cessé de repousser les limites de son répertoire, offrant des prestations de musique ancienne, des premières de compositions manitobaines et un assortiment des plus éclectiques entre les deux.
L'impact de votre soutien est vraiment remarquable. Avec votre aide, depuis trois ans, le directeur artistique de Camerata Nova, Andrew Balfour, qui est d'origine crie, a été en mesure d'apporter le don de la musique dans des écoles plus petites et plus éloignées
qui n'ont pas de programmes officiels d'éducation musicale et d'enseigner aux élèves comment créer et interpréter leur propre paysage sonore pour décrire leur communauté, leur famille ou la terre qui les entoure.
Et grâce à vous, Camerata Nova présente des concerts exceptionnels, saison après saison, y compris une série pluriannuelle de concerts saisissants sur le thème de la vérité et de la réconciliation qui ont eu un véritable impact. Qu'il s'agisse d'appuyer nos activités de rayonnement, de programmation ou d'exploitation, c'est vous qui faites en sorte que tout se concrétise! Votre don déductible d'impôt à Camerata Nova apporte un changement réel et durable.
Quel impact avez-VOUS en cette saison de générosité? Veuillez envisager de faire un don à Camerata Nova aujourd'hui. Votre soutien de fin d'année aidera des centaines d'élèves à s'exprimer à travers la joie de la musique au cours de cette année scolaire.
Click here to find out more about donating to Camerata Nova and other fantastic charities today.
http://cameratanova.com/16/wp-content/uploads/2018/11/Giving-Tuesday-LogoWhite-2018.png
1080
1080
Roland Descambault
http://cameratanova.com/16/wp-content/uploads/2019/09/camerata-logo-use-1.png
Roland Descambault
2018-11-26 20:24:24
2019-01-21 12:44:47
Giving Tuesday